I'm a firm believer in affordable skincare and spending your money where it matters. I want to point out that this is based on my opinion and where I've noticed the best results. There are amazing drugstore skincare products on the market that are economical, yet some people have given them a bad rep. It all comes down to reading the ingredient list, consumer reviews, and using your own judgment.
If you're looking for a quick guide OR some go-to recommendations, keep on reading!
I find this one of the most effective and simple cleansers on the market, especially in terms of value for money (big bottle sizes, hello!) They have a variety of products including hydrating, Salicylic Acid (SA), and various types of foaming cleansers. There's pretty much a cleanser for everyone.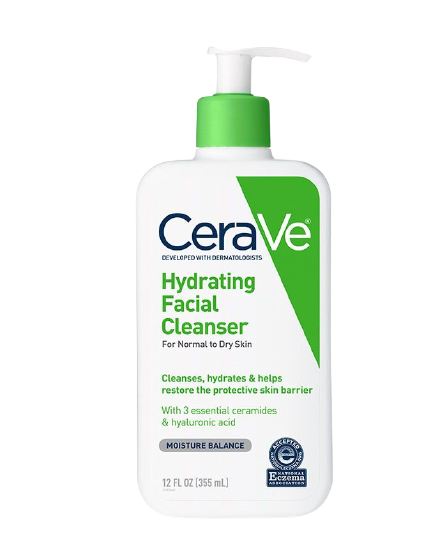 They recommended by dermatologists since they are non-stripping, non-comedogenic, non-irritating, and fragrance free. Additionally, they're packed with ingredients such as ceramides, hyaluronic acids and niacinamide.
During the cold winter months, I prefer using the hydrating cleanser and in the summer the foaming facial cleanser for oil control.
A little toner goes a long way; no cotton/reusable pads necessary. This essence toner brings all the moisture back in your skin after your face wash. It contains 91.3% milk vecht root extract instead of water, a great base for a toner, if you ask me!
The essence only has seven simple ingredients that are packed with antioxidants and anti-inflammatory properties. It has a thicker gel-like consistency that makes it all too satisfying on your skin!
I've mentioned this amazing exfoliating toner in a previous post, to read my full verdict click here. If you want to achieve proper skin hydration while maintaining a healthy glow, this one's for you! It also contains effective ingredients such as aloe vera, amino acids, and ginseng that contribute to calming the skin.
Packed with 49% centella asiatica extract, this serum is ideal for those who have sensitive or highly reactive skin with the inclusion of great antioxidant properties. In addition, it's available in a toner and fragrance serum version.
Purito also offers some attractive low-cost solutions, including the Pure Vitamin C Serum that I personally find highly effective for my skin. Most notably, it visibly brightens the skin and helps diminish hyperpigmentation over time.
This moisturizer is surprisingly recommended by the Inkey List for normal to dry skin types – however, after some digging into its ingredients and online reviews, I decided to give it a try anyway. Holy shit, pardon my French, it works wonders on my skin!
My generally oily skin soaks this moisturizer right up, yet my face feel heavy or dry. It's highly effective for oil control, in combination with the right sunscreen, which will make it  a worthwhile option for dry and oily skin types.
It's a fairly simple moisturizer with its key ingredients being 2% royal epigen P5, that helps even your skin tone along while delaying the aging of skin cells, and 1% hydrating peptide solution, that supports your skin's moisture barrier.
---
In case you forgot, I also love affordable sunscreens and have a super informational blog post that includes some of my favourite products. To find my sunscreen recommendations, click here.
I will add that I still love spoiling myself with luxurious skincare products, so I am throwing no shade whatsoever! However, skincare should accessible for everyone on any budget (especially if some men are looking to get started, hint hint!)
If you want  to share some of your favourite affordable skincare recommendations, be sure to drop them in the comments!
Until next time!